Colville Rotary Chili Cook-Off​

You're invited to compete in our first annual open chili cook-off!
Check back regularly for Chili Cook-Off News!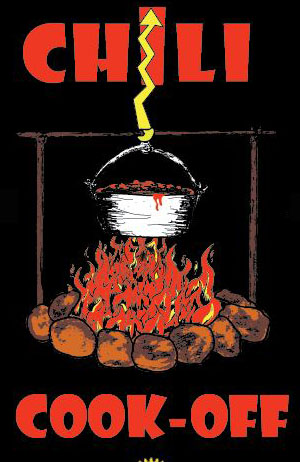 April 17, 2013

The Stevens County Hotel and Motel tax Advisory committee considered requests for funding community events April 10th. They awarded $2,500 to the Cook-Off. This Rotary event was among many requests: Colville Chamber (had many), Wall-eye Tournament, Spokane Lake, Chewelah Chataqua (awarded $2,500), Marcus new flea market, Historical Society, and many others. Another round of requests will be heard in October for the $27,000 the County has available.

Canadians Like Chili Cook-Off

Response for the cook-off and the bike ride were "keen" and the prospects for exciting contestants are excellent.

Two Chili Heads felt like the salesman in Music Man out selling his instruments in Trail, Fruitvale, Salmo and Nelson, B.C. as they visited restaurants and attended three Rotary Clubs.

They picked up the in-kind donation of two golf tickets at Champion Lakes Golf Club east of Fruitvale. Kevin Nesbit, manager, sent them over to see Laniah Arnold in Salmo, who owns both Eagles Nest at Champion Lakes and
the Dragon Fly. "What sweet young lady," said Bud, "Full of enthusiasm for what she does." She is impressive! For the big music event in Salmo the second week of August, she makes five thousand panini meat sandwiches. In her restaurant she features a photography by Luis Jmieff of Nelson. A photo of her restaurant will be on the new Facebook page for the cook-off. Do have a look-see at his "art" and his lovely, haunting photo of the Dragon Fly.

The Rotarians at the clubs are sending members to the District Conference. The Chili Heads gave more information about lodging in Colville on June 7-8.

Blazing Saddles flyers were handed out. A Waneta Club member said he rides with twenty and that they'd all be "keen" to hear about the ride.

Bob Henderson a Rotarian at the Nelson Club, came over to say he had been a passenger on Monty Frederickson's new boat and enjoyed the ride on the Columbia River. Gary Clark, owner of Clark's Sports, who had sold it to
Monty had taken them out in the new boat.

Chili Heads were walking along a Nelson street when a couple came up to ask if they needed directions. Bill Woikin and his wife were on their way to
their son's funeral, but Bill took time to invite them to call his Sunday radio show. "I'll put a record on for you and give your event a good spin, too.
But not this Sunday."

Later, they met Terry Brennan, operations manager, at the station, who said, "Send us psas." (Colville Rotarian Eleanor Mattise does this so she'll be delighted to send them off to terry@cjly.net.)

Canadian comments about the Cook-Off sent the Chili Heads back to the U.S. in a big snow storm. They loved hearing people say: Exciting, Beautiful, Thanks so much for asking.

It's going to be a great party. Canadians have an instinct about parties. This one's must be the sling shot to future events.